It all begins with an initial consultation. We will meet with you to discuss possibilities, answer questions and and bring creative insights. Once we understand your vision, we'll develop a road map and make recommendations as to the best route to achieve the end result. The quality that our designs deliver will add value and distinction to your home for years to come. Communication is essential to any successful project and most issues occur in the construction process or lack thereof. We try to avoid this by having an open line of communication between you and our staff.
Below is a simple pre-construction process flow chart we follow to insure a successful project: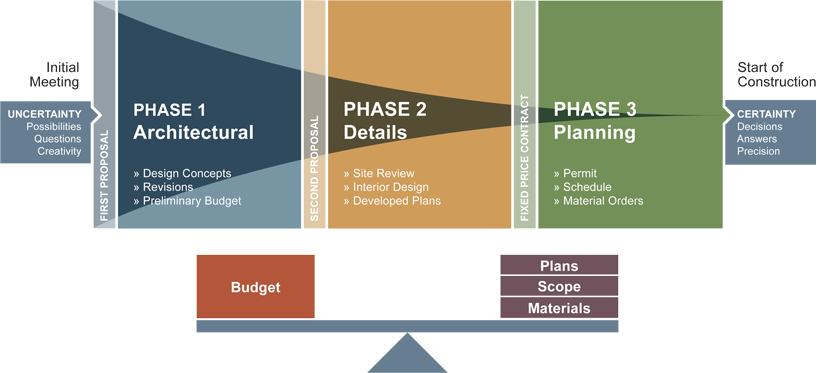 1. Preliminary Site Visit
This consultation will give us the opportunity to discuss priorities, budget and submit proposal based on high-level discussion. We will also provide recommendations of how best to achieve the end goal.
2. Commit
If you're comfortable with our recommendations and proposal then we move to the next stage. This is where we both commit time and resources to begin the process of determining project specifics.
3. Contract Negotiation
Items in the Contract are determined and budget is established. We can give firm estimates based on selections and scope. (An average bathroom remodel is 3-4 weeks.)
4. Project Begins
This is where the fun starts! After we've established a detailed timeline, we encourage walk-throughs to be conducted with you at critical phases of the project to monitor progress.
5. Completion
A final walk-through is conducted and any punch list items are noted and taken care of immediately.
6. Your Satisfaction
We say thanks to you! We love what we do, and seeing you satisfied is what wakes us up in the morning.